Cutting-edge surgical treatment
The treatment of spinal diseases is extremely complex and requires a variety of approaches.

At the Neurosurgery Centre, we mainly treat degenerative diseases (i.e. those caused by wear and tear), inflammatory diseases and tumours.

Our services range from diagnostics via conservative (non-surgical) therapy to microsurgery and classical open surgery.

These services are provided in close collaboration with a wide variety of specialists such as neurologists, orthopaedic specialists, radiologists and the Rheumatism/Back/Pain Centre at the Bethesda Hospital in Basle.

Moreover, complex and chronic diseases are regularly discussed in the presence of various specialists and the patient's family doctor (if so required) in order to develop a holistic treatment concept.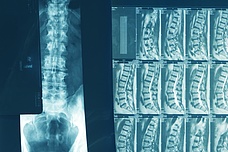 ---
---